Small Business Services Partners for your Small Business:
We have researched and developed relationships with a limited number of companies and professionals who offer services and products for small business owners. We have carefully chosen the preferred providers listed on this page for their commitment to serving small business owners. When contacting any of these providers, be sure to let them know you found them through The How of Business Podcast to receive any promotions or specials they may be currently be offering to our listeners.
[We may receive commissions for purchases made through these links (more info).]

Preferred Provider: Oostas

SPECIAL OFFER:
Small Business Website only $847!
Bronze Package
Just mention The How of Business to receive this special offer.
Oostas builds websites that impress both customers and search engines.
With everyone using the internet – on their computers and at their fingertips – it's crucial to have a killer website to stand out among all the competition. A cookie-cutter website won't make it – neither will an outdated, broken, or just plain amateur looking site. [learn more]

Preferred Provider: FranNet of Dallas & Fort Worth

SPECIAL EVENT: FREE Franchise Webinar
Are you considering starting a franchise business? Henry Lopez (Host of The How of Business Podcast) has partnered with Sara Waskow (Franchise Specialist and Owner of FranNet of Dallas/Fort Worth) to help you through the process of determining if a franchise business is the right fit for you, and then helping you select and successfully operate a franchise.
Take the first step toward franchise business ownership by scheduling a Free Coaching Consultation with Henry Lopez.
Want to learn more about Franchises? Get the FREE "6 Franchise Myths" download.

Small Business Branding
Show Sponsor: ZeBrand
ZeBrand is the all-in-one branding platform for jumpstarting your small business. With ZeBrand, you can create a complete brand system that includes logos, colors, branded templates, and more — all pre-designed based on your vision to deliver brand consistency, impact, and business growth. Get the effective brand your business deserves, without investing too much time and money, so you can focus on growing your business
It's quick, easy, and free to get started. To learn more about ZeBrand, visit zebranding.com, or download the free ZeBrand Starter Guide.

Show Sponsor: LinkedIn Jobs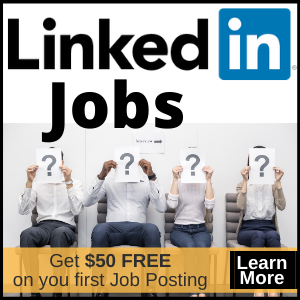 When you post a job on LinkedIn, you reach a community of people who are open and interested in new opportunities like yours.
Getting the right person in the door is easy. Once you post a job, LinkedIn will match your role with qualified candidates who have the skills, interests, and experiences you're looking for in your next great hire for your small business.
Special Offer: Receive $50 Off your first job posting!
[learn more]