Episode Description:
In this episode we interview Matt Ruedlinger, a serial entrepreneur with expertise in sales, marketing, and developing new businesses. He shares his entrepreneur story, how he has built and developed his businesses, delivering remarkable customer service, developing an effective on-line presence, and other tips and advice for small business owners.
About Matt Ruedlinger: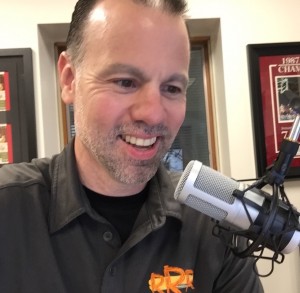 Matt is an entrepreneur, and the Founder and CEO of the marketing firm Triple R Marketing. Matt's vision of Triple R Marketing is key to his core belief and operating principles, driving him to create distinguished customer experiences. He is also the founding partner of Fanvious, developers of the app that allows fans to order food and merchandise from the comfort and convenience of their seats!
Matt has over 20 years of experience in Marketing and Sales, helping small-local businesses and brand-name Fortune 500 companies alike become leaders in their industry.
He lives in Bloomington, Indiana with his family.
Show Notes:
Matt started his as a graphic designer, and then was offered a position in sales in the plumbing supply industry.
He always aspired to be an entrepreneur and have the freedom to create his own destiny.
What held him back early on to start his own business was fear. His experience in sales gave him the confidence to start his first business.
He is also the owner of a caramel candy manufacturing business – Joan's Caramels.
"Wouldn't it be great if your clients called you for anything they need?" Matt believes in building relationships with his clients that go beyond talking to them only when they need your services or product.
Matt shares the story of how he got the idea for his latest venture,

Fanvious

, and the process of developing and launching this business and the Fanvious app.
Matt offers services to help his clients deliver remarkable customer service experiences, starting with the customer experience with your business online.
He also share tips & advice on how to build an effective on-line presence, including your website, social media and SEO (Search Engine Optimization).
Matt believes that one of the keys to his personal and business success has been understanding the value of relationships.
"Getting started is the hardest part!"
Resources:
Books mentioned in this episode:
[We receive commissions for purchases made through these links (more info)].