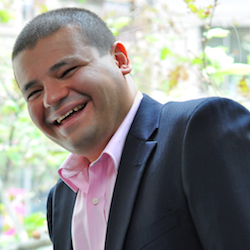 Allan is a serial entrepreneur, marketing and technology expert, business coach, and author. He has started and grown multiple businesses in various industries including IT, telecommunications and marketing. One of his previous businesses was in the telecommunications industry where he faced heated competition from multi-billion dollar, multinational competitors. Allan grew his business from startup to four years later being named by Business Review Weekly as one of Australia's fastest growing companies – earning a spot in the coveted Business Review Weekly Fast 100 list.
Allan is passionate about helping small businesses find new and innovative ways to leverage technology and marketing to facilitate rapid business growth. His book is "The 1-Page Marketing Plan – Get New Customers, Make More Money, and Stand Out From The Crowd"
Allan lives in Melbourne, Australia.
Resources:
Books mentioned in this episode:
[We receive commissions for purchases made through these links (more info)].
Related Episodes:
You can find all released episodes of The How of Business podcast on our Archives page. The How of Business podcast is hosted by Henry Lopez, and focused on helping you start, run and grow your small business.