Episode Description:
In this episode we interview Vance Morris, an entrepreneur, customer service & direct response marketing expert, and author. He spent 10 years working at Disney World. He is the founder of Deliver Service Now Institute, which coaches companies to create magical and profitable service cultures in their businesses.

About Vance Morris:
[Learn more about Vance Morris]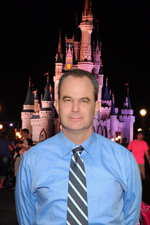 Vance spent 10 years working at Walt Disney World in Orlando Florida. He started his career at Disney on the Opening Team of the Yacht & Beach Club Resorts, and progressed through the management ranks as a Night Club Manager at Pleasure Island, Service Trainer aboard the Empress Lily (restaurant), and on the revitalization team of the Contemporary Resort in the mid-90's. It was at the Contemporary that Vance got his crowning achievement, Designing, Opening and Operating Chef Mickey's, Disney's flagship
Character Dining Experience.
After leaving Disney, (yes people do leave) he utilized his skills to rescue or improve many of America's companies and government agencies. His clients included Legal Seafoods, Tyson, NASA, Rain Forest Café, Compass Group, The Executive Office of the President of the United States, The Smithsonian and the Kennedy Center for the Performing Arts.
Tiring of corporate life, Vance opened his own bricks & mortar business in 2007. After meteoric growth of his service business, other entrepreneurs began to seek him out for advice and counsel. This spawned his next business, Deliver Service Now Institute, which offers consulting and coaching for companies and small businesses on how to create and implement Disney style service and then apply Direct Response Marketing to profit from it.
Vance is also the author of several books and an acclaimed speaker.
Show Notes:
Vance started his career in the corporate world, including his time at Disney World. He always had an entrepreneurial spirit, but many of his bosses had a problem with his "out of the box" thinking. He believes he made a "lousy employee" in many ways.
Vance was recruited to join Disney by a friend, and he gave up his career in the Northeast to move to Orlando, Florida.
His first business was a carpet cleaning franchise. He worked with a franchise broker to find the right franchise for him. His still owns this small business today.
He has used direct response marketing to build his carpet cleaning business, and he helps other small business owners leverage this type of direct mail advertisement to grow their businesses.
Customer service has always been a focus and a differentiation for his small business.
His other current business, Deliver Service Now Institute is focused on helping businesses deliver Disney-like service to their customers.
He believes and teaches "The Awesome POWER & PROFITABILITY of Impeccable Customer Service Through Systematic Magic." It's about exceeding your customer's expectations.
Once you know "…what your client's needs, wants and emotions are…you can figure out how to exceed their expectations…"
In his book, Systematic Magic, he introduces and explains the "7 Magic Keys to Disnifying your business."
Deliver Service Now Institute offers workshops, coaching, consulting, and other services for small business owners. They also offer an intensive customer service boot camp at Walt Disney World – he offers these about six times per year.
Resources:
Books mentioned in this episode:
[We receive commissions for purchases made through some of these links (more info)].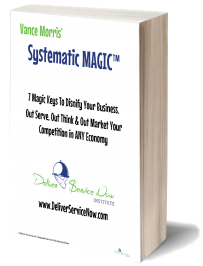 Other related Content: